If you're new to hillwalking you may find that your trusty backpack no longer works for those long days on the hills. You may have found there's not enough space, or you don't have time to take off your pack to rummage for what you need. You do want to be able to carry the supplies you've now discovered are essential to surviving out on the hills in all the weathers the Irish climate throws at us.   But you want to be able to access what you need easily. Oh, and it should be able to survive the rigours of the more adventurous treks led by those leaders on a mission!   Not to mention, it needs to weigh like …nothing! Otherwise, how will you make it to the end of the day without falling down and staying down, moaning "I can't take any more…just leave me here."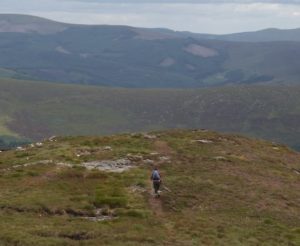 Decisions Decisions
It's worthwhile browsing a while before you buy. Most day packs have between 20 and 40 litres capacity (that's space for your kit, to the uninitiated).   Your walk leader will probably have a pack that's closer to 40 litres in size because she or he will be carrying lots of extra stuff that us Glenwalk sheep don't have to think about. So that's a guideline.
After size, the next aspect to think about is the frame. It's worthwhile spending a little extra to get a frame that's specifically designed for your gender. Then your load will be distributed appropriately for your build. Thus avoiding some of the common back problems associated with bad posture. A woman's rucksack, for example, will have the shoulder straps closer together for the narrower female frame. In most of the good camping stores the sales staff will get you to put on your chosen pack so they can adjust it to fit your particular body size. A mesh frame will also aid ventilation thus avoiding the discomfort of moisture build up.
Comfort Rules
Check that straps are padded where they meet shoulders and hips, making them a more comfortable option for long hikes. Check the fastening systems on the pack. The zippers should be beefier with larger teeth as these will last longer. Drawstring closures at the top of the pack are commonly used and replaceable if they break. Avoid buckles that are specialised to the brand and/or stitched directly into the pack fabric. They will be difficult to replace. A sternum strap will help distribute the weight of the pack. Some of these incorporate a whistle which can be very useful for hands free access in a life threatening situation.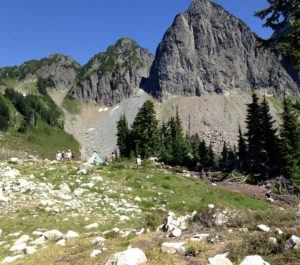 External pockets should be scrutinised carefully. They can be really handy for items that you may need to access quickly, but size is important. Large and deep side pockets are very useful. (No point in having a lovely side pocket that only fits a compass or a protein bar.) Some brands have extra pockets in the waist strap. A top loading lid pocket can be used for items you don't want to get lost in the main pack….like your lunch!
Inside clips in zipped pockets for holding items that are small (like car keys) are becoming more common.
Anything Else?
Look for sturdy closure straps. Tightening these can help compress the contents of your pack. Side straps are useful for tying items like walking poles to your pack when they're not in use.
Some packs feature a rain cover.  Personally, I find it a nuisance to have to unpack it, and in high winds it turns the pack into a sail!  Much easier to pack your spare clothing, and anything else you want to keep dry, into a plastic bag (or stuff sack) inside your pack.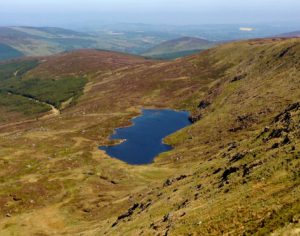 And….
A rucksack featuring an internal pocket for a plastic water bladder (hydration system – Platypus) is essential for long hikes. The obvious benefit not having to break your stride in order to get a drink of water.
We all want to keep our rucksacks light but we have to remember that hillwalking needs a lot more careful planning with the attendant extra layers of clothes, extra food and hot drinks that involves.
Be safe out there, and
Happy Hillwalking