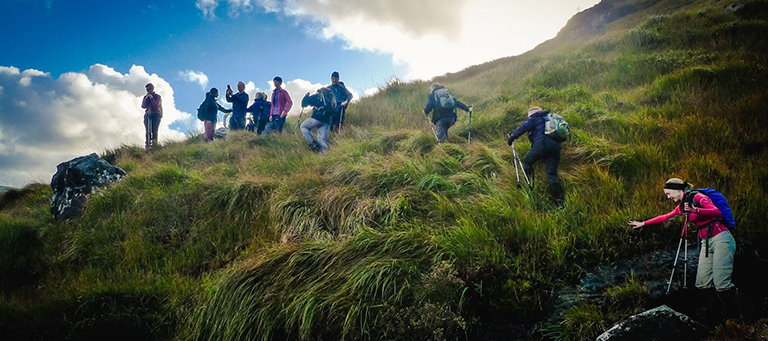 Glenwalk Privacy Statement
Information Collection
Glenwalk, a sociable hillwalking club managed by a voluntary committee, respects each individual's right to personal privacy.  Glenwalk takes the protection of the data that we hold about you as a member seriously and will do everything possible to ensure that it is collected, stored, processed, maintained, cleansed and retained in accordance with current and future data protection legislation.  We will collect and use information fairly and in keeping with the purposes for which it was obtained.
Use and Disclosure of Information

Glenwalk collects/holds information on members (i.e. Name, Address, Email, Phone number, date of joining, MI number, payments and event history) in order to maintain our membership databases, perform record-keeping functions, manage our club membership, register members with Mountaineering Ireland, manage our club related events, and perform on-going communications with members – including our Newsletter and advising of events that may be of interest to them.
A list of members who have expressed an interest in helping with club events is also held.
In order to help ensure walkers safety, share knowledge / route cards of previous walks led, and maintain relevant records regarding club equipment and training, we retain additional records with regard to our leaders / trainee leaders, which include: number of walks led in the current and previous membership year, walks led in past years, what club provided or club subsidised equipment is held (if any), Club first aid training history.
Glenwalk will only use this data to maintain accurate membership records, and to communicate with members regarding club related events and membership information.
Glenwalk will only disclose information to third parties who are acting on our directions such as agent (e.g. membership of Mountaineering Ireland) or where such disclosure is required by law.  No disclosure of information will be made to any third parties for those third parties' own purposes or use.
When you become a member or renew your membership with Glenwalk you will automatically be registered as a member of Mountaineering Ireland. For this purpose, Glenwalk will provide Mountaineering Ireland with the following personal data: name, address, email address and telephone number.
Our website is hosted by Wild Apricot. The data is stored on the Amazon servers which are EU-US Privacy Shield compliant and certified.  As Amazon is based in the USA, all the data is being stored on US servers however, as per the EU-US Privacy Shield, Amazon complies with European data protection laws.
Glenwalk uses "Cookies".  Cookies are described as small pieces of information that are stored by your browser on your computer's hard drive to enable that computer to know when you are visiting a particular website.  They are widely used in order to make websites work, or work more efficiently, as well as to provide information to owners of the site.  Glenwalk may use cookies to store information on your computer. This information may help us identify if you are registered with the site and shortcut your access through the site. We will only read cookies from your cookie file placed there through your web browser's interaction with the Glenwalk website.
Information Retention
Glenwalk will only keep information for as long as necessary and for the primary purpose for which it was obtained.Lapsed members will be deleted within 12 months after the start of the Membership Year in which their membership lapsed.
Access to Information/Contact Details
May 2018