What a day for a hillwalk.  It was warm and windless in beautiful surroundings.  The smiling walkers I met along the way agreed.  Starting at Shay Elliot means a variety of landscape is assured and lots to admire along the way.  Most hill tops have cairns in this area (towered heaps of rock).  Please resist the urge to add to them. Remember our saying:  "Take nothing but memories, leave nothing but footprints".  The first gorgeous creature I met was a Peacock Butterfly alongside the track up towards Cullentragh: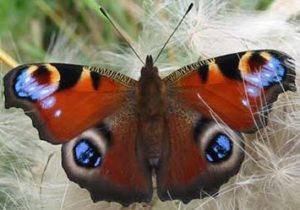 As I saw another close by, I realised, as the day progressed, this was going to be a butterfly day.  All kinds were to be seen: Small Tortoiseshell, Red Admiral, Speckled Wood and Meadow Brown.  Here's the lovely Small Copper Butterfly: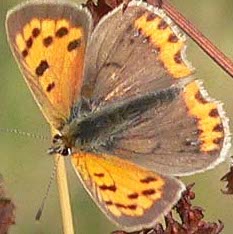 Mr Raven was making himself heard as I came down Mullacor and I spotted a Sparrow Hawk hunting by the slopes of Derrybawn.  The deer were out in force but sheltering from the hot sun under trees and tall bracken.
Homeward bound on the old track below Derrybawn's slopes, I came across a Fox Moth Caterpillar, sunning himself on a stone.  His colours were a lot sharper than this fellow, because his habitat is the cooler region of the uplands: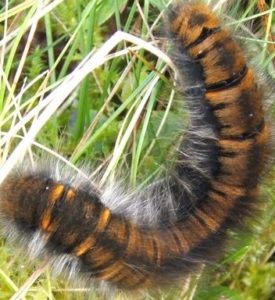 So….what did you see on your hike?