Well it was this time last year when I put an article in the Newsletter about training for the Seven Sevens. The members who started the training with me were not part of the final Seven who completed the challenge with the exception of one person.  Whether or not you did the challenge it was great to walk somewhere different and meet people you may never get to walk or chat with in the club.  For me the whole experience  of leading, planning, meeting and getting to know other members of the club was fantastic.  I also got to know the staff in the Donard Hotel in the centre of Newcastle very well and they were so nice and helpful.  Pat the owner even parked our cars in his own front garden for us, mind you he had a big garden, but that is how much they went out of their way for us.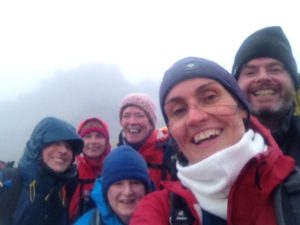 By July 2017 the team was set in stone and we had completed five of the Seven Sevens.  The last Saturday in July we decided to do six of the Seven, just so we were prepared for the day itself.  Well when I say it was tough, those words don't really describe it.  That night we were supposed to go out to dinner but we were so tired and exhausted that we cancelled and stayed in.  I had a shower and just lay on the bed unable to move.  The others weren't as bad as me but I found out in the following week that I had an infection and needed antibiotics.  I guess I had some signs but was trying to ignore them and continue on.  Learn from my mistakes don't carry on go to the doctor and get treatment because you need to be in your full health for any of these challenges.  I was so sick I was contemplating backing out.  Now for those who don't know me I'm not the type to back away from a challenge.
Saturday 12th August arrived and we were up at the crack of dawn in the Donard Hotel.  Pat the owner went out of his way again and gave us breakfast at 6am even though they don't start serving  till 7.30.  We were at the starting point by 6.55 and off we went, full of enthusiasm and energy.  We had decided on a plan for breaks, instead of having one big break for 20 mins we would have a five minute break at the base of each summit.  We decided to cut out the jellies as they can make you sick on a long day.  I had two pasta salads, one apple, two high energy drinks and one litre of water with hydration tabs.  Pat had done some hard boiled eggs for us and we all took one and ate it at the base of Donard after we had summited.  Protein and Carbs are the key and if you are like me not able to eat a lot first thing in the morning then the boiled egg is great for later on the hills.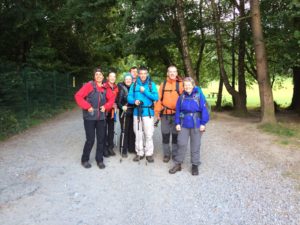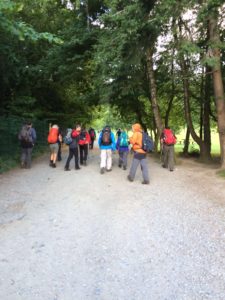 The Weather was mixed, we started off misty then that turned in to light rain for the first few hours which made going through the boggy area even boggier.  We climbed out of the bog and the sun started to shine which was around 1pm.  But unfortunately for us the sun brought out the midges and as we approached the bridge over Ben Crom dam they were swarming around us and we were eaten alive.  My face, hands and neck had red bite marks all over them, I couldn't believe it as I had never been bitten by anything in my whole life on this earth.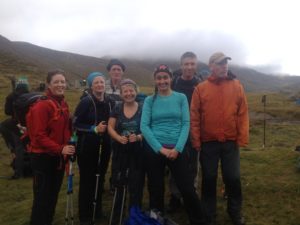 At this stage we only had two Mountains left to climb, Binnian and Lamagan.  Slieve Binnian isn't that hard to climb but when you get to the top you still have a long walk to the other side to tag on and then you have to walk back.  Lamagan is a tough climb especially after climbing the other six.  And then you have Cove and Slieve Beg to contend with which aren't part of the challenge but you have to cross them to get back to Donard Car Park.  Finally we reached  the tent where you hand back your tag and they congratulate you and give you your times and your cert.   That sense of achievement at that point made up for all the times I said in my head to myself, are you mad??  Just give up you cant do this!!  Which goes to show most things are mind over matter.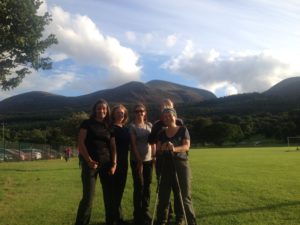 The team was Anne Fitzgerald, Gerry Byrne, Jenny Siung, Jim Barry, Maria Smyth, Pat Browne, and Moi!!  Fair play to everyone on the team but in particular praise has to go to Maria who just six months before we started the training was a medium slow walker.  I remember Maria on the first training session saying I'm not sure I'm up to this, but I'll give it a go.  Well she gave it more than a go.  Now who out of the 450 people who did the challenge on the day do I admire most??  The fastest?? NO!  Maria and Myself!  Why??  Because we stayed at the Bar, drinking, dancing and having great craic with the locals who were all glammed up on their Saturday night out and we in our smelly sweaty mucky hiking gear till 1am Sunday Morning.  Now that's a real challenge!!  I hear you, self praise is no praise but it's my blog and I will say what I want to!!  I know we should have changed and had  a shower but if we had done that I know I would have just fallen into the bed and not moved.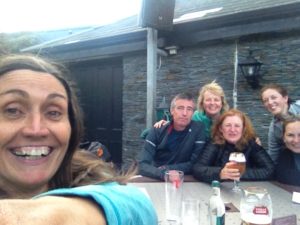 Here is a rhyne Anne Fitzgerald made up to help her remember the names of the mountains I have put in brackets the actual names of the mountains:
On The way up Slieve Donard I met a Commedant (Commedagh), who brought me to a Barn Dance (Slieve Bhearna) where he had a large meal (Meelmhor) and I had a small one (Meelbheag). He then went to the bog (the flat boggy bit in the middle of the mournes) where he threw up in the Bin (Slieve Binnian) and left all the lamb behind him (Slieve Lamagan).  That wasn't it all, there was more (the two hills at the end which aren't part of the seven sevens but you have to climb them) but that's for another day.
A few people asked me would I do it again so I said yes.  If you would like to join the team this year email  deirdre@glenwalk.com  and I will add you to the seven sevens whatsapp group.  But before you decide to try it out I would recommend getting yourself to Medium Medium level in the next few months.  Don't be afraid to go up a level in the club just make sure the Sunday you are jumping a level that you have had an early night beforehand, no drinking and that you did a few days of walking or running during the week.  Obviously don't go from Slow to Medium Medium.  Before you leave a level make sure you have been at the front with the leader on your previous walk.  The club is having a weekend in the Mournes in June so I would recommend you go on that weekend and get on the Medium Fast walk, obvously having built yourself up to this level.  During the summer months I will start the training for Seven Sevens in August.