The Clifden weekend was everything we hoped for, and more than some of us dreamed! The Station House Hotel outdid themselves with the standard of their accommodation, and food. The staff are so kind and helpful.  Our stalwart leaders:   Jimmy, Hugon, Duncan, Brendan, Conor, Karina, Fiona and Philip outshone themselves in designing walks for every level, making it a weekend to remember. Lots of Maamturks, Glencoaghan Horseshoe, and 12 Bens virgins ("first-timers" to the uninitiated). The weather co-operated, giving us some of the most beautiful views across the mountains and sea, wherever we walked. And the après hikes craic was mega, as you would expect from Glenwalk. There was Jack the Scot who went up the hill……and there were sheep who wandered in for lunch. Oh, and let's not forget the mermaid seen by some, and pondered by many.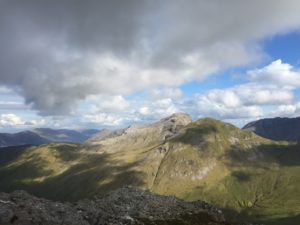 A special word of appreciation to Philip who, as weekend walks co-ordinator, gave up his much of his beauty sleep to haunt and cajole so that all the walks were planned well in advance, so well planned in fact, that we all had the details before we'd even checked in to our accommodations! And then, to facilitate those of us whose brains are swiss cheese, announced the days events each morning, foregoing his chance for a lie-in over the holiday weekend.
The icing on the cake for this organiser was the EUR185 collected on behalf of the Irish Peatland Conservation Council. They had sent us a bunch of tickets to sell at only EUR3 per ticket. When the tickets ran out, the generous Glenwalkers in Clifden  continued to contribute. Thank you for your generosity, Clifden Revellers!   The IPCC appreciates your contribution to their important work. Delivery of the cash was completed by Madeleine, today, Thursday.