The toss up at the beginning of each year…. which Glenwalk weekends to do!?
I decided to hit Killarney this year. I was on the Killarney weekend only once before and felt it was high time to give it another visit.
All booked and paid for, it wasn't long before it was time to hit the road. After organising a car pool with 2 other companions, I was looking forward to a road trip consisting of catch up chats, laughs and a lunch stop along the way.
As we left Dublin, it wasn't long before we slowed down to a crawl with all the other cars escaping for the long weekend. All in all it took us the best part of six hours to get to Killarney – YES 6 hours of traffic crawling, chatting, lunch stops and technical stops! The car chats went from general light chit-chat to deep confessional, very upfront and candid stuff!! Rules are rules of course and at the end of the day as we all well know "what's spoken in the car stays in the car" so my lips are sealed! I must admit by the end of the weekend I was quite confused. After travelling in different cars I began to get confused at which conversations belonged to which car, who had spoken about what and who I could or couldn't talk to about certain things!
Stopping off in Adare for lunch, we weren't in the least bit surprised when we strolled into the café and saw 2 other Glenwalkers sitting having lunch. Sure its Glenwalk after all… we are everywhere!
On arrival to the hotel, the fires were lit and the hotel was feeling cosy… after dumping the bags and doing the obligatory scramble with the roomie for the double bed, we headed back down for a beer to a growing circle of arriving Glenwalkers around the fire.
Later that evening we headed down town for dinner to a restaurant (recommended by Tadhgs friend) called "The Stone Chat". A cosy restaurant, friendly staff, lovely food mixed with light banter & craic with great company. I would well recommend this restaurant for anyone heading in that direction.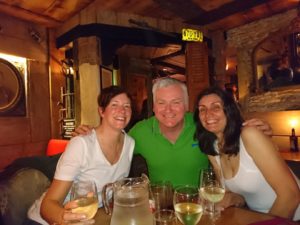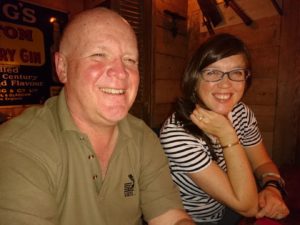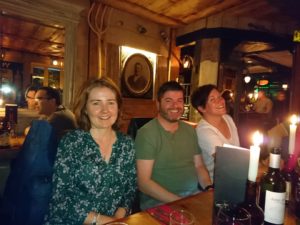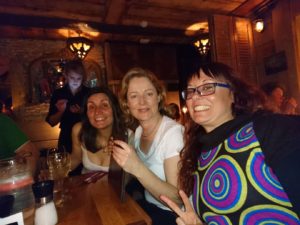 A beer back in the hotel, meet and greet kind of thing and then everyone started heading off to their rooms preparing for the walks ahead. Of course you will always find some late night stragglers reluctant to head off to bed just yet… the famous last words "sure just one more.."
Over the weekend there was a fantastic mix of walks available. From a walk in the park with Jean, 20ft drops and rope activities with Hugon, while Roger and Brendan were hanging out of the Ridges at Coomloughra Horseshoe and the Cummeenapeasta Ridge.
I chose to do 2 MS walks this weekend:
One very questionable "MS" walk with Phillip who brought us from Kate Kearneys to the right of the Gap of Dunloe – Strickeen – Cnoc an Bhráca – Cnoc an dTarbh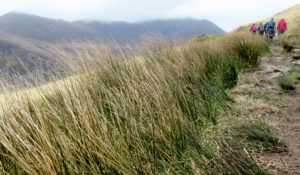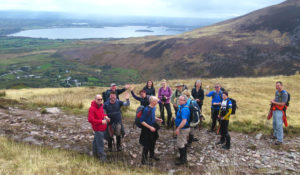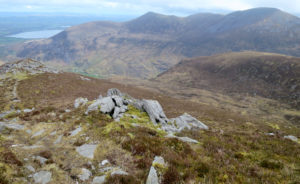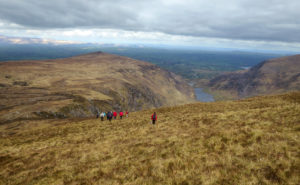 and on Sunday a MS with Denis to Mangerton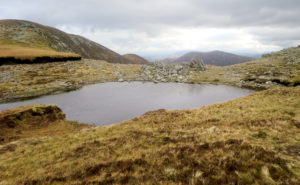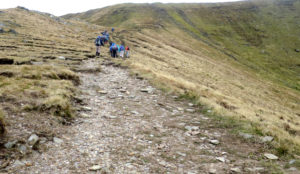 As always we were spoilt with an alternative choice on Sunday. Tony gathered some troops and headed off for a relaxed cycle of the area.
Both dinners as always went great. Lovely food, good chats and laughs, a few too many drinks followed by, on Sunday a trip into the heart of Killarney to a pub where we stood shoulder to shoulder unable to move! Good times!! Haha. A Session on Sunday night where Conor, Leon and Duncan providing some great music and tunes along with other Glenwalkers led us into the wee hours of Monday morning.
I have noticed in the past many months some changes in Glenwalk.. Changes in a positive manner. Moving forward its exciting times. Members are now being encouraged to get involved with events, weekends, becoming leaders and more… This is good for sure.. This weekend Marie stepped in and organised the weekend in Killarney while Tadhg stepped up and took on the speech at dinner. Well done to you both and to everyone else involved.. Especially to the leaders who gave their time, coming down early to recce walks for us, making sure everything was accessible and running smoothly on the day.
I have to say, I missed a lot of the regular faces that were not able to make it but at the same time it was really great to get to know the newer members. It was a thoroughly great weekend and I'm glad I went.
Its always a little sad leaving a weekend and leaving the camaraderie that has being built over the weekend.. but sure hey ….there is always the Donegal weekend looming in June!
Something a little different….
Speaking of change folks… This year I have offered to organise both the Summer Party and the Halloween Party on the October b'hol weekend. I have been conferring with some team members and I must say Im really excited about both events!
The Summer Party will be taking place on Saturday 19th of August… Pop it into your diaries and maybe even go as far as getting ahead of the game and organising your team of 4/5 people. I will tell you more soon but for the moment just to know – You will be out around the streets of Dublin competing against the other teams in Glenwalk… Its going to be the Craic! There will be plenty of laughs and maybe even a pub stop or 2 along the way if you get thirsty…
But most important…
WHO will be crowned the WINNER….
See you all out in the hills
Linda Jordan